About a year and half back, we wrote a series of articles about how SolarCity was in financial distress contrary to the narrative of Chairman Elon Musk and SolarCity executive staff.
What happened in that scenario was that SolarCity's loss generating, cash burning business model was exposed when interest rates on debts climbed. With capital markets closing in, that episode ended with Tesla (TSLA) acquiring the troubled SolarCity. History shows management sold a bill of goods to Tesla shareholders. As to be expected, SolarCity's business shrank dramatically since that acquisition.
Tesla management today finds itself in a situation similar to where SolarCity was couple of years back. It is no secret that Model 3 ramp is not going well and the Company is burning enormous amounts of cash. Model 3 ramp has been revised down progressively over time. From 100,000 to 200,000 units in H2 2017, to 5,000 units per week by the end of Q4 2017, to thousands of units per week by the end of Q4 2017.
Model 3 Problems Are More Severe Than Management Commentary Indicates
The Company's already reduced goals have been revised down yet again recently when Tesla announced Q4 delivery numbers. As we have pointed out earlier, the Model 3 status in that press release was intentionally vague and attempted to suggest a higher production rate than reality.
"During Q4, we made major progress addressing Model 3 production bottlenecks, with our production rate increasing significantly towards the end of the quarter. In the last seven working days of the quarter, we made 793 Model 3s, and in the last few days, we hit a production rate on each of our manufacturing lines that extrapolates to over 1,000 Model 3s per week."
It has been over three weeks since this press release and we now have incontrovertible data that shows that Tesla is nowhere close to the proclaimed 1,000 Model 3's per week production level. VIN tracking at various sources including Tesla Motors Forums and Model 3 VIN Tracking shows that only about 1000 vehicles may have been manufactured between the end of December through the third week of January. In the most optimistic scenario, Tesla may have produced at most 500 cars per week during the last three plus weeks. That is at best 10% of the rated 5,000 unit per week production.
This production has also been plagued by quality problems as we have been forecasting for a while now. Even though the Company appears to have delivered only a few hundred Model 3s to non-employees, internet forums are flooded with quality concerns. Here are some examples of some problems that customers have reported:
This shows an extraordinary high number of problems for a car that barely shipped a few hundred units.
So, where does Tesla go from here?
Note that, in the same deliveries press release, management guided for a 2,500 per week run rate exiting Q1 and a 5,000 a week run rate exiting Q2.
But, with current production around 1/10th the planned speed, coupled with customer reports of abysmal outgoing quality, suggests that the production line and the car itself are still in the early stages of debug. Given this, 2,500 units production run rate exiting Q1 seems highly unlikely.
We now estimate that full line rate production of 5,000 units per week is unlikely before Q3 at the earliest. It is probable that this production rate may not be sustainable in 2018.
There seems to be a major problem with Model 3 reservation conversions
In a very curious way, the above manufacturing problems seem to be occurring in an environment where Model 3 reservation holders seem to be hesitant to convert their reservations into firm orders.
How do we know that?
From extensive crowd sourced tracking of Model 3 reservation holders.
What the linked spreadsheet shows is that, in only about a month after opening Model 3 orders to non-employees, the Company already seems to have mostly served the day 1 reservations of current Tesla owners. The spreadsheet shows that the Company is already catering to reservations from 2017.


Note that reservation holders from June of 2017 are already able to configure their cars! This is a stunning development.
Not only are 2017 reservation holders configuring but reservation holders from far outside of California are also able to configure their cars (image below)

This is extraordinary given that Tesla's previously communicated roll out plan was to keep initial units in California so that it can more easily serve these cars which it knew were likely to be problematic.
Given the quality problems we are witnessing, one would think that Tesla would keep all the Model 3s close to the factory for debug and repairs.
Another interesting trend that shows a curious lack of appetite for Model 3 is the speculator sales pipeline on eBay. On eBay, we find that most of the Tesla Model 3 cars for sale are not attracting even a single bid at the modest premiums being sought by speculators.
We should also note that Tesla started selling to non-employees after it gave priority to its own and SpaceX employees and investors. Tesla seems to have run out of employee and investor purchases before Model 3 hit couple of thousands of units of production.
Considering that Tesla has hardly sold many cars, investors should find the employee conversion rates, reservation conversion rates, geographic spread, and speculator trends disturbing.
It is becoming increasingly evident that the demand for the current long range Model 3 at close to $50,000 is extremely limited. This should not be surprising to our readers since we have previously forecasted that Model 3 demand for higher priced trims will be low as most reservation holders are likely expecting a $35,000 car.
Tesla faces several unpleasant options to address the low reservation conversion rates:
Open the reservations to customers who have not owned a Tesla before and who may not have much experience with Teslas.
Introduce a base Model 3 at closer to $35,000 and lose even more money
Introduce cheaper interior trims which will also reduce margins
Rush a higher end dual motor Model 3 without proper testing and further increase quality problems
The bottom line is that none of these choices are a positive for shareholders. Nevertheless, Tesla needs to do something soon to incentivize current reservation holders to convert at a larger rate.
Q4 Results Will Not Be Pretty And Q1 Is Looking Weak
In terms of recently concluded Q4, we already know that shipments for Model S and Model X exceeded expectations. The nearly 30,000 in car sales is a record but the sales came through inventory clearance, special promotions, and with a big hit to gross margins.
On a positive note, we suspect that gross margins for Model S and Model X in Q4 could be better than management expectations due to the strong year-end demand for Model S and Model X due to concerns about Federal Tax Credit expiration. On the flip side, the gross margin for Model 3 is almost certain to be worse than expectation. It is difficult to estimate the gross margin on the combined vehicle mix due to these opposing vectors. Nevertheless, regardless of any small improvements in gross margins, Tesla will show material deterioration in all core metrics.
A $500M loss for the quarter, excluding ZEV credits, is likely.
Based on management guidance of capex spending being tied to Model 3 production, Q4 will be yet another big quarter for Model 3 related capex. Capex burn will likely exceed $1B for Q4 unless Tesla has been able to dramatically throttle down service center and supercharger capex spending.
Looking ahead, Q1 demand is looking extremely weak based on public order tracking spread sheets. Q1 may very well turn out to be the softest Q1 in a long time.
In essence, looking at past, present, and future, there is virtually nothing for investors to celebrate about.
The Absurdity Of Tesla Board's Thinking
With all of the above problems at hand, what does Tesla board do?
It comes up with a radical new compensation system for Elon Musk. Much has already been written about Mr. Musk's proposed compensation plan.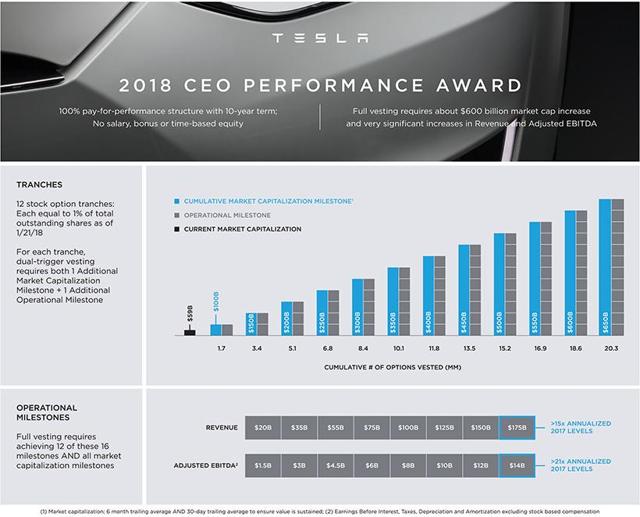 The performance metrics tell us several things about Elon Musk and the Tesla board:
Firstly, the message seems to be that Tesla is primarily a story of market capitalization growth. Just the hubris of this line of executive compensation is beyond the pale.
Among many ironies and holes in the thinking, note that market capitalization goals can be achieved with acquisitions which may add no value to shareholders.
Also, EBITDA is largely meaningless for capital intensive companies. Depreciation is the attribute that defines capital intensive companies. Excluding that makes very little sense. The board is beyond incompetent to be using EBITDA, let alone adjusted-EBITDA, for a capital intensive manufacturing Company like Tesla.
Even if one were to make EBITDA a primary criterion, note that the 8% EBITDA number is what an AVERAGE auto manufacturer delivers with an average gross margin of around 15% (see image below)
The low EBITDA numbers indicate that the management will be compensated to run at levels well below EBITDA levels that of top-tier auto manufacturers. Isn't Tesla's story about industry leading 30% gross margins and exceptional profits? Can a Company board be this clueless on executive compensation? Or, is the board sending a message that margins will be lower? If the margins are lower, then how does Tesla justify its premium valuation?
It occurs to us that board had no idea of the irony of the implications of the metrics used.
Wrap up
To have any credibility on the earnings call, the Company needs to show progress on Model 3 ramp. However, Model 3 status, despite Company's narrative of reaching 1,000 cars per week production rate at the end of Q4, seems highly problematic.
With a lot riding on selling a good Model 3 story, investors should find Model 3 manufacturing and demand trends disconcerting.
It should be alarming for investors to see an executive compensation pan tied to mediocre peer group with 15% gross margins and 8% EBITDA margin. Is this a message from Tesla board that the Company has already resigned to a mediocre fate on Model 3? And, that the Company will continue to burn cash for the foreseeable future and no profitability should be expected?
At this point in time, we are highly skeptical of the Tesla Model 3 ramp and doubt that full capacity utilization can be reached in 2018. This will cause tremendous losses and cash burn at the Company for the rest of 2018.
Under the current circumstances, we find little to cheer at this company. Beyond investor faith, there is very little to stop a dramatic valuation compression.
For timely, cutting-edge insights, analysis and investing ideas of solar, battery, autonomous vehicles, and other emerging technology stocks, check out Beyond the Hype. This Marketplace service gives you early access to my best investing ideas, along with event driven and arbitrage opportunities when they are most edgy and actionable. If you want expert advice on seeing through the hype, separating fact from fiction, avoiding investing landmines in emerging technologies, and an opportunity to participate in a vibrant and intellectually stimulating real-time chat room with other high-caliber, like-minded investors, consider subscribing to Beyond the Hype today.
Disclosure: I/we have no positions in any stocks mentioned, and no plans to initiate any positions within the next 72 hours.
I wrote this article myself, and it expresses my own opinions. I am not receiving compensation for it (other than from Seeking Alpha). I have no business relationship with any company whose stock is mentioned in this article.
Additional disclosure: Author's investment philosophy is long only and author does not short. Shorting is a sophisticated investment strategy that requires superior investment skills and must be avoided by all but experienced investors with the appropriate skill and wherewithal.