On February 15th, Synergy Pharmaceuticals (SGYP) CEO Troy Hamilton presented at the Leerink Partners 7th Global Healthcare Conference. It marked the first serious outing by Hamilton since he took over as CEO from company co-founder Gary S. Jacob.
Donning the mantle of chief executive after the market responded brutally to a surprise secondary offering in November 2017, Hamilton faces a market and shareholder base that is wary of Synergy's management. He struck a conciliatory and upbeat tone during his presentation and subsequent Q&A session, and strove to draw a line under the past year and to chart a course for 2018 that is distinct from the Jacob era.
With shares still trading around $2, the market is clearly deeply skeptical. But that may well present a great opportunity for investors willing to invest in the growth of this company over the next year.
Let's take a look at the latest news from Synergy, and what it means for our investment thesis in 2018.
The Promise of Change
When Troy Hamilton was named CEO on December 19th, it marked the end of an era. Gary Jacob had led Synergy for many years and never seemed to quite get that it was a public company. He was willing to dilute or destroy shareholder value in order to pursue his own ambitions and vision. The November secondary offering, which was not telegraphed and appeared unnecessary given the company's access to a large debt facility, proved to be the long-time chief executive's undoing. Jacob is not gone entirely, having been named Executive Chairman upon his resignation, which has caused some investors and commentators to wonder if the real power continues to rest with the ousted CEO.
Upon his appointment as CEO, Hamilton immediately worked to distinguish himself from his predecessor, on paper at least. He made that desire clear in his initial statement of priorities:
One of my initial areas of focus will be to work with our CFO, Gary Gemignani, and the Synergy management team to continue to refine our business plan and focus on achieving cost efficiencies throughout the company while prioritizing investments that will drive significant TRULANCE growth. As we move into 2018, we will continue to evaluate all strategic and business development opportunities to maximize the value of TRULANCE and leverage our commercial infrastructure, remaining focused on delivering long-term value for patients, healthcare providers and our shareholders."
In his presentation at the Leerink conference, Hamilton made it clear that he is the man in charge, stating that, "Things are gonna change under my leadership." What exactly those changes will be was not quite as clear, though he did lay out his priorities.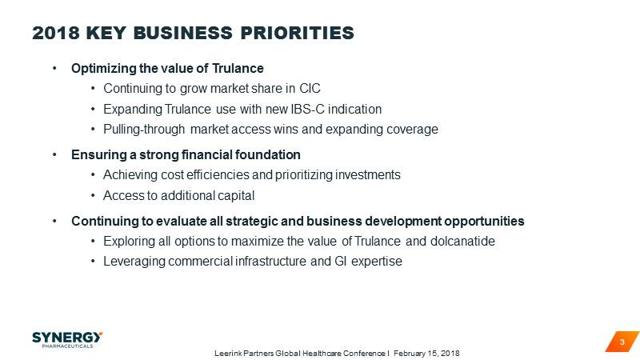 Hamilton promised that, "Everyone at Synergy will be looking at these three key business priorities." Optimizing the value of Trulance is obviously the most important thing. It is what will ultimately determine the value of the company. Investors are still waiting to see if Trulance can really seize significant market share. The new CEO has set solid goals, but execution is what counts.
Trulance Performance Update
Hamilton's presentation dedicated significant time to an update on Trulance prescription numbers. This is what really counts in the end, after all. The latest prescription data is fairly encouraging.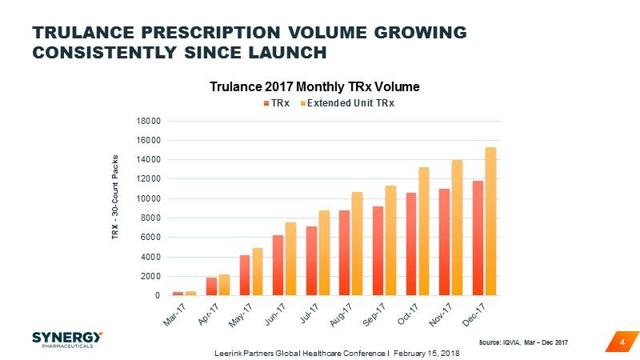 There has been steady growth in the number of prescriptions, as well as in the number of pills per prescription. The growth is not yet setting the world on fire, but Trulance is still fighting to win over market share against the incumbent, Linzess. Importantly, in 2018 Trulance will have two distinct advantages over its first year on the market: It will have much wider formulary access and is approved for a second indication, irritable bowel syndrome with constipation, or IBS-C.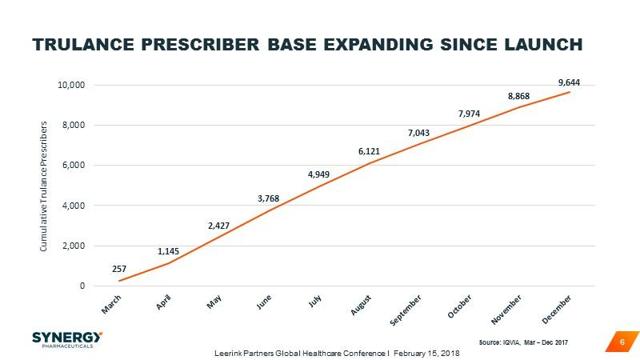 Hamilton described the overall market as growing at "a double-digit clip" and that Trulance has "tremendous opportunity for continued growth." He also stated that he did not intend to grow the salesforce, which speaks well of cost-control but may cause worries about marketing coverage.
The question now is whether Synergy can seize the new market opportunity and leverage its salesforce more effectively to gain access to a wider number of patients. Trulance is cutting into Linzess, but the incumbent remains the dominant force.
Pursuing New Opportunities
The day after Hamilton's promotion was announced, I wrote a piece in which I asked whether he would be a truly distinctive leader or just more of the same. In that article I argued that the new CEO could deliver material improvement to Synergy's growth prospects:
Hamilton is untested as a CEO, but as an expert in commercialization he has the knowledge Synergy needs right now as it continues its fitful growing pains as a commercial-stage business…

We must consider some of the opportunities the new leadership could offer in addition to an improved go-it-alone commercialization strategy. One is the prospect of a partnership or outright buyout. The new CEO is well connected in Big Pharma, including Johnson & Johnson (JNJ) where he spent a decade in a number of roles.

The Jacob era was fixated on maintaining Synergy's independence. For Hamilton, who has few emotional ties to the company he joined just two years ago, other options may seem more appealing."
It is clear that, for now, Synergy is going to continue its own commercialization work for Trulance in the domestic market. However, Hamilton was eager to point out a number of opportunities that he is exploring actively. Selling ex-US rights is one, and that could bring in significant income in one-off payments and royalties.
Co-promotion with other products is also something Synergy will be pursuing this year. Hamilton stated that accessing these other marketing channels could bring Trulance sales to "the next level." In-licensing opportunities are also on the table for consideration. All of this is good news for Synergy's growth prospects and its financial outlook.
Charting the Way Forward
The first material result since Hamilton took over as CEO has been the meeting of a cash balance requirement that will allow Synergy to access the second tranche of its debt facility, worth $100 million. The company needed to have $128 million in the bank at the end of January to qualify, and several analysts and commentators thought it could not achieve that cash position. In the end, Synergy did have enough cash. What particular role Hamilton had in ensuring that is unclear, but it is a solid sign that financial control is possible for a company that has spent several quarters burning through vital cash reserves. It has also removed much of the near-term financial worries, though the market has yet to reward Synergy's share price accordingly.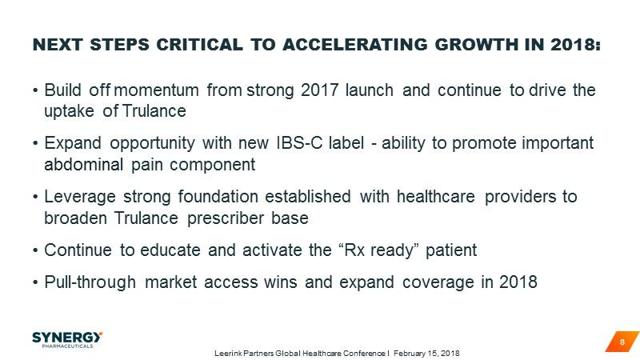 2018 will be an important year for Synergy. With more than $200 million in cash readily accessible, the recent high cash burn rate is sustainable for well over a year. But that should be expected to drop precipitously as Trulance gains more market share and matures as a product in the marketplace.
Synergy still has a lot of work to do to prove it can succeed in making Trulance a mass-market success. At the current share price, the market is clearly discounting the company's prospects. I would argue that the outlook is stronger than it has been in the past few months, with Synergy representing a remarkable value opportunity. We can expect the fourth-quarter results to be reported on March 1st. That will help provide some further insight as to whether Synergy can deliver on its significant promise.
Disclosure: I am/we are long SGYP.
I wrote this article myself, and it expresses my own opinions. I am not receiving compensation for it (other than from Seeking Alpha). I have no business relationship with any company whose stock is mentioned in this article.