Around two months ago, I wrote an article titled "My Oh My, 4 Strong Buys" that generated a record of 173,000 page views. In that article, I explained that my definition of a "Strong Buy" means that "I am recommending a high-quality REIT that is trading at a wider margin of safety. Recognizing principal preservation is critical, my recommendation is telegraphing readers that the company is a blue chip on sale."
It's true, messaging is critical to the writing process and one thing that I have learned over the years (writing on Seeking Alpha) is to engage with readers so that they can benefit from the research that I'm providing. My goal with the use of the "Strong Buy" terms is to distinguish between a regular BUY and STRONG BUY.
In order to make that distinction, I screen for companies that have enhanced price appreciation catalysts that support my annual total return requirement of 25% or higher (in 12-24 months).
Around two years ago, I had just two or three STRONG BUYs recommended, but as of today, I have 17 (recently added UMH).
Keep in mind, a STRONG BUY does not necessarily suggest that shares in these REITs will immediately rebound. Sometimes catalysts could be driven by macroeconomic forces (such as tax reform) or headwinds that could take quarters to play out.
Regardless, my "stepped-up" BUY recommendation is based on fundamental analysis in which I believe there is a good chance that the particular stock will outperform the regular BUY basket. In this article, I will explain four of my top Strong Buy picks, and if you don't mind, I'll do a quick victory lap!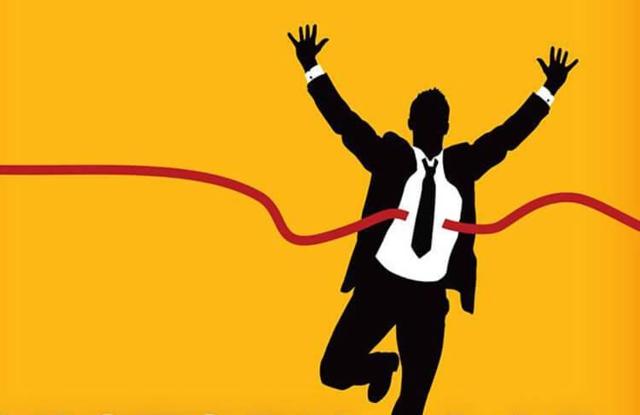 My Oh My, The 4 Strongest Buys
EPR Properties (EPR), based in Kansas City, MO, is a uniquely positioned triple net lease REIT, centered on three key industries – entertainment, recreation, and education. It's a niche approach with rigorous underwriting and investing criteria – yielding a competitive advantage and potential for higher growth & better returns. EPR's total investments exceed $6.8 billion, with 400 properties and over 250 tenants, across 43 states, District of Columbia, and Canada.
First quarter results: $155 million in total revenue, 20% over the same quarter in 2017. Adjusted funds from operations (AFFO) were $94 million or $1.26 per diluted common share, an increase of 6% over last year.
The company's investment portfolio (excluding development): Entertainment segment (about 43% of assets) included 149 megaplex theatre properties, seven entertainment retail centers, and 11 family entertainment centers, totaling 13.2 million square feet, 99% leased.
Recreation segment (33%) included 25 ski areas, 20 attractions, 31 golf entertainment complexes, and ten other recreation facilities, all 100% leased. The Education segment (21%) included 65 public charter schools, 67 early education centers, and 14 private schools, over 4.7 million square feet and 98% leased. (The "other" 3% was primarily land underground lease, property under development, and land related to a casino and resort project in NY's Sullivan County.)
Latest quarter investment spending totaled $108.6 million: Entertainment $25.5 million, Recreation $62 million, and Education $21.1 million. Net debt to adjusted EBITDA was 5.80x – and EPR is reducing its net debt, anticipating additional dispositions this year. The Company had $24.5 million in unrestricted cash and $570.0 million outstanding under its $1.0 billion unsecured revolving credit facility at quarter end.
The AFFO payout ratio was 86%, and in January, EPR increased its regular monthly cash dividend almost 6% over the prior year – the eighth consecutive year with a significant dividend increase. The annual yield is 6.90%.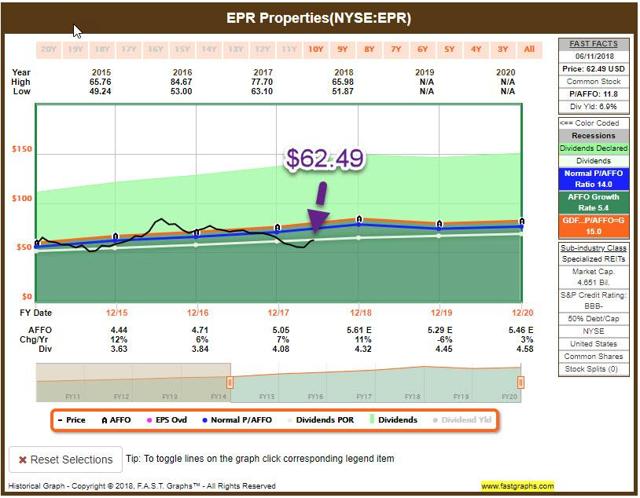 Source: F.A.S.T. Graphs
LTC Properties, Inc. (LTC) is a REIT that primarily invests in senior housing and health care properties through joint ventures, sale-leaseback transactions, mortgage financing, preferred equity, and mezzanine lending. All leases are triple net.
The company has been around for over 25 years and began operations in August 1992.
As of March 31, LTC had an enterprise value of over $2.1 billion and a nearly balanced capital allocation among skilled nursing properties (49.7%) and assisted living properties (47.9%).
LTC holds 203 investments, in assisted living communities (105), skilled nursing centers (97) and a behavioral health care hospital, across 29 states. (Assisted Living communities include combinations of assisted living, independent living, and memory care facilities.)
First quarter net income was $20.3 million or $0.51 per diluted share ($21.4 million or $0.54 per diluted share for the same period in 2017). FFO was $29.7 million (compared with $30.8 million for the comparable 2017 period). FFO per diluted common share was $0.75 and $0.78, respectively. The decreases in results were primarily due to a reduction in rental income from properties sold in 2017, a defaulted master lease placed on a cash basis and higher interest expenses from net borrowings.
During the first quarter, LTC funded $7.4 million under an existing mortgage loan, for purchase of a 112-bed skilled nursing center in Michigan. Prior to quarter-end, the company sold a portfolio of six assisted living and memory care communities for $67.5 million – the Sunrise Portfolio, spanning 320 units and five locations in Ohio and Pennsylvania – from which LTC expects to show a net gain of approximately $48.0 million in the second quarter.
LTC's dividend was last increased in October 2016 and has a current annual yield of 5.48%.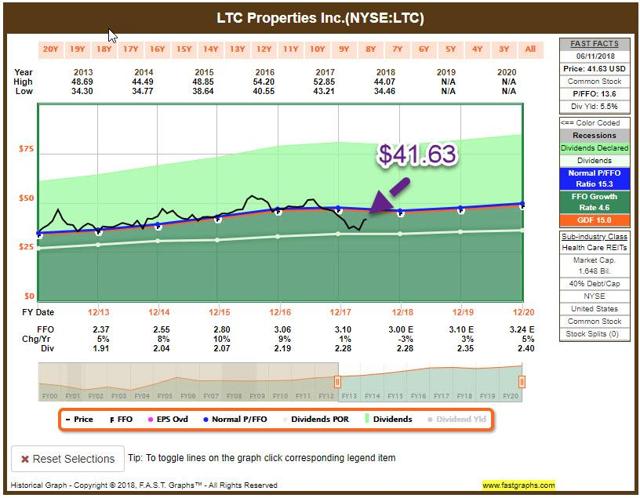 Source: F.A.S.T. Graphs
Ladder Capital (LADR) just increased their quarterly dividend last month, to $0.325, for an 8.30% annual yield. Since becoming a REIT January 1, 2015 (founded 2008), the dividend has increased by 30% in four separate increases.
The internally-managed company focuses on senior secured assets and provides fixed- and floating-rate commercial mortgages, mezzanine financing, and preferred and direct equity to partners. LADR is one of the largest non-bank contributors of loans to CMBS (commercial mortgage-backed securities) securitizations in the U.S.
First quarter GAAP income before taxes was $71.7 million with diluted EPS $0.53 (up from $18.3 million and $0.18, first quarter 2017), due to higher net income from loan portfolio interest & real estate investment rentals and sales gains on loans and real estate – Ladder's highest quarterly earnings since the IPO. The company is strongly aligned with shareholders – management and directors own over $185 million of stock (over 12% total equity market cap).
Ladder has increased investor appeal and its shareholder base. The top 4 pre-IPO holders held around 51% of the shares, now reduced to around 10%. One shareholder, Related Companies, sought to purchase all the outstanding shares at $15 each. Shares spiked over $15 and Related withdrew its offer – and Ladder refused to provide more information to boost the bid.
It's a good reminder how price & value are not always the same. Ladder shares are undervalued based on my NAV analysis and the latest earnings. The dividend, already super-sized, could get fatter.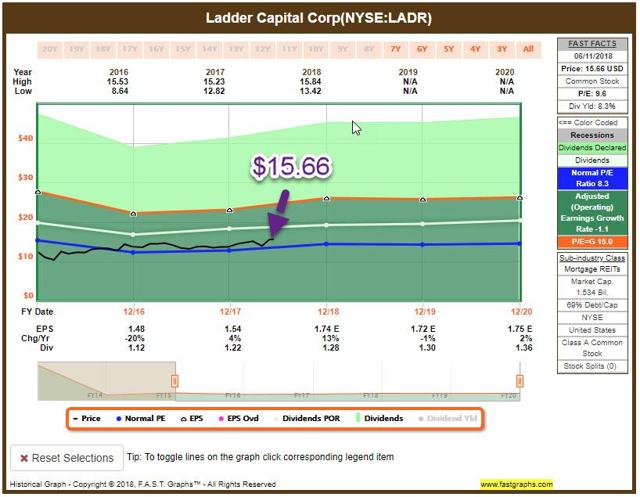 Source: F.A.S.T. Graphs
Park Hotels & Resorts Inc. (PK) is the second-largest publicly traded lodging REIT, with a diverse portfolio of 54 premium-branded hotels and resorts with significant underlying real estate value and over 32,000 rooms, primarily in key U.S. markets with high barriers to entry.
The company was formed in January 2017 when Hilton Worldwide (HLT) spun off most of its owned real estate into a separate public REIT.
Park's top 10 hotels accounted for about 70% of earnings, including the Hilton Hawaiian Village Waikiki Beach Resort, New York Hilton Midtown, Hilton San Francisco Union Square/Parc 55 San Francisco – a Hilton Hotel, Hilton Waikoloa Village, Hilton New Orleans Riverside, and Hilton Chicago.
Last month, the company completed the sale of the joint venture Hilton Berlin in Germany, with Park's share approximately $140 million. It was the 13th hotel Park has sold this year and the 10th international market property, as Park recycles capital out of non-core assets and reduces exposure to non-U.S. markets and joint venture interests. Park now has ownership in four hotels outside the U.S.
First quarter 2018 comparable RevPAR was $165.57, an increase of 1.1% from the same period in 2017. AFFO was $137 million, a decrease of 0.7% over 2017. Park's sale of 12 hotels for $379 million (gross) went toward repurchasing and retiring 14 million shares of common stock from an affiliate of Chinese conglomerate HNA Tourism Group.
Park has an attractive and well-covered dividend, which pays a current annualized yield of 5.56%, not including a special cash dividend of $0.45 per share next month (totaling about $90 million), from the sale of the Berlin property.
Park represents one of the best lodging REITs – especially given the association with Hilton.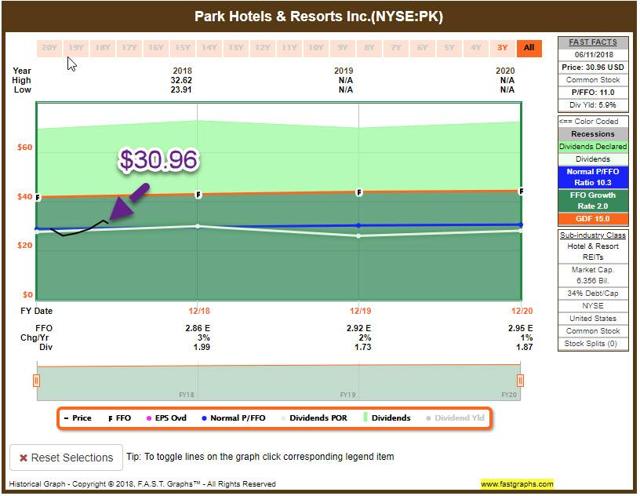 Source: F.A.S.T. Graphs
In summary, in the June 2018 edition of the Forbes Real Estate Investor, there were 17 Strong Buy REITs that make up the companies in the New Money Portfolio. These four REITs (EPR, LTC, LADR, and PK) were the best performers in May, generating an average return of 10.6%.
The New Money Portfolio generated an equal-weight return of 3.9% in May and thus far in June, the portfolio is on track to deliver sound results. There is no doubt that the first three months of 2018 were brutal for the REIT sector, but investors can now see daylight as the absolute weakest segments of the market have all lifted above the "worst three" buckets, as illustrated by the graphic below (provided by BMO):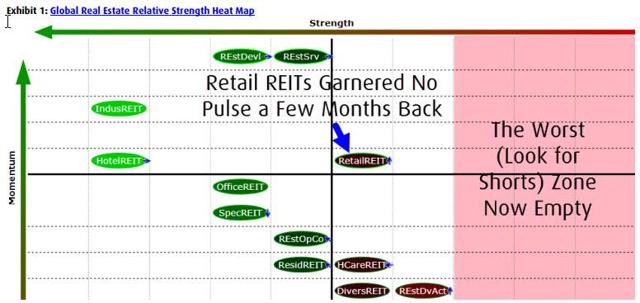 Source: BMO
U.S. Retail REIT relative strength, which was diving this time last year, has been in a much less severe downtrend this year, suggesting that the "retail apocalypse" story is more fiction than fact.
Don't worry, you won't see me buying shares in CBL (CBL) or Washington Prime (WPG), I'm sticking with the quality names that generate steady and reliable dividend growth. Stay tuned for my next Strong Buy update as I focus on the Retail REITs. Happy SWAN investing!
Latest Articles: EPR, LTC, LADR, and PK.
All Strong Buy picks can be viewed in my Marketplace service (The Intelligent REIT Investor).
Note: Brad Thomas is a Wall Street writer, and that means he is not always right with his predictions or recommendations. That also applies to his grammar. Please excuse any typos and be assured that he will do his best to correct any errors if they are overlooked.
Finally, this article is free, and the sole purpose for writing it is to assist with research, while also providing a forum for second-level thinking. If you have not followed him, please take five seconds and click his name above (top of the page).
Source: F.A.S.T. Graphs
Disclosure: I am/we are long ACC, AVB, BHR, BRX, BXMT, CCI, CHCT, CIO, CLDT, CONE, CORR, CTRE, CUBE, DEA, DLR, DOC, EPR, EXR, FRT, GEO, GMRE, GPT, HASI, HT, HTA, INN, IRET, IRM, JCAP, KIM, KRG, LADR, LAND, LMRK, LTC, MNR, NNN, NXRT, O, OFC, OHI, OUT, PEB, PEI, PK, PSB, PTTTS, QTS, REG, RHP, ROIC, SBRA, SKT, SPG, STAG, STOR, TCO, TRTX, UBA, UMH, UNIT, VER, VNO, VNQ, VTR, WPC.
I wrote this article myself, and it expresses my own opinions. I am not receiving compensation for it (other than from Seeking Alpha). I have no business relationship with any company whose stock is mentioned in this article.