There seems to be more articles on Seeking Alpha in which authors recommend shorting Blue Chip REITs. A few days ago there was a short thesis on Tanger Factory Outlet (SKT) and the author explained,
"I have a hard time convincing myself that the good results will continue into the future. I personally am not comfortable with the sales per square foot metrics at these properties… the current stellar portfolio performance may possibly suddenly see itself deteriorate in the next 5 years without warning."
I have already provided my counter to that article (HERE), and most of my followers know that I'm not a market timer who picks tops or bottoms.
Instead, I am a value investor and I have found that it's simply better to be in the market invested in stocks that offer the highest potential returns than play the timing game.
Many of you know that I'm generally a buy-and-hold investor and that means that I like to invest in REITs that I can own for the long haul. It's rare that I bet against securities that will fall in price… that's like gambling that my plants will die. I prefer to plant my seeds firmly in the ground and wait for my crops to grow.
Occasionally, I run across a few plants (stocks) that seem to be deteriorating and, as a result, I seek to avoid the companies all together. I'm not a proponent of shorting REITs, that's just RISKY!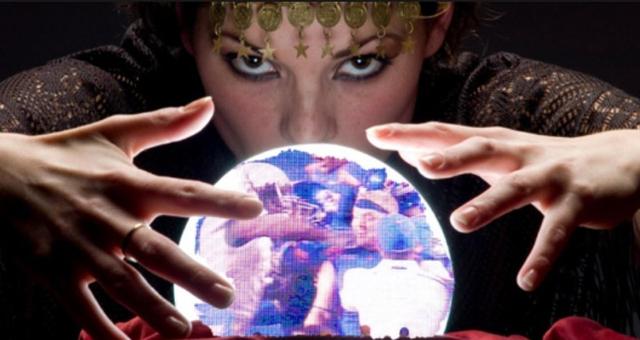 Why Short a REIT?
I find it amazing that some of the wealthiest REIT investors – the hedge funds – claim to have a vast knowledge and understanding as to the nature of their complex strategies, yet the funds' overall performance often turns into Fool's Gold.
We all know that hedge funds by nature are opportunistic as they are designed to pool people's money to invest in a diverse range of assets. Because hedge funds are lightly regulated (and are not sold to retail investors), they typically buy riskier positions and they often employ the use of short selling and leverage.
Although it is difficult to evaluate hedge fund performance compared with other investments (because the risk/return characteristics are unique), I remain baffled as to why so many hedge fund managers cross into my sweet spot – REITs – trying to short a particular stock that is anything but distressed or even showing signs of weakness.
You can see why the $12 billion hedge fund Pershing Square took advantage of the falling value in General Growth Properties (NYSE:GGP) back in 2009. That was a wise bet for William Ackman (who runs Pershing Square) who has a history of investing in distressed real estate. But history has also shown that there is little opportunity for the short sellers who pursue high-quality blue chips.
For example, in 2009, Ackman waged a battle against Realty Income (O) on the thesis that the "monthly dividend company" had poor credit quality. Ackman argued that Realty Income was suffering from mispriced risk since the REIT was paying a dividend of around 7.5% while the private market cap rate values were closer to 10.5% – a 40% premium. Ackman was suggesting that Realty Income's fundamentals could not support the dividend and that a cut was imminent. Boy was he wrong!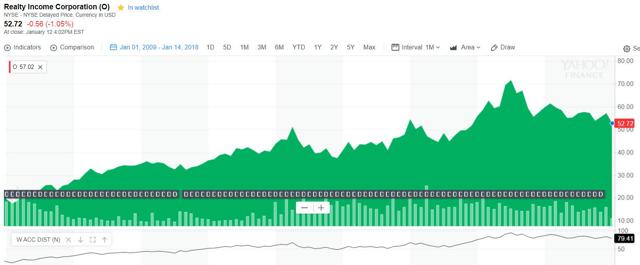 Think about it like this, the outcome of a short sale is basically the opposite of a regular buy transaction, but the mechanics behind the short sale result in extremely volatile risks.
In fact, it's somewhat like the law of gravity as the law of investing is inflation (instead of gravity) and that means that betting against the upward momentum is inherently risky. That means that when you bet against the momentum and you keep a short position for a long period of time, your odds get worse.
Also, when you short sell, you don't enjoy the same infinite returns you get as a long buyer would. A short sale loses when the stock price rises and a stock is (theoretically, at least) not limited in how high it can go.
In other words, you can lose more than you initially invest, but the best you can earn is a 100% gain if a company goes out of business and the stock loses its entire value.
Finally, and the most concerning risk is leverage or margin trading. When short selling, you open a margin account, which allows you to borrow money from the brokerage firm using your investment as security. Just as when you go long on margin, it's easy for losses to get out of hand because you must meet the minimum maintenance requirement of 25%. If your account slips below this, you'll be subject to a margin call, and you'll be forced to put in more cash or liquidate your position.
For all of these reasons, I'm not willing to risk hard earning capital to short a REIT. Plain and simple, it's just way too risky and I believe that by patiently taking advantage of the margin of safety, my portfolio will hold more winners than losers.
Regardless of my risk tolerance level, the short sellers haven't stopped betting against REITs and when that feeding frenzy becomes a catalyst, the "squeeze" ensues (as more and more of the short investors buy shares to cover their positions, share prices skyrocket).
This Blue Chip Bet Paid Off Handsomely
In May 2013, Highfields Capital decided to short shares of Digital Realty (DLR) based on the premise that shares were too expensive and should be trading for around $20.00 per share. Jonathon Jacobson stated (at the 18th Ira Sohn Investment Conference last week) that "pricing is going lower, competition is increasing, and the company (Digital) is tapping into capital markets as aggressively as they can."
At the time, Digital was trading at $65.50 per share with a total capitalization of around $14 billion.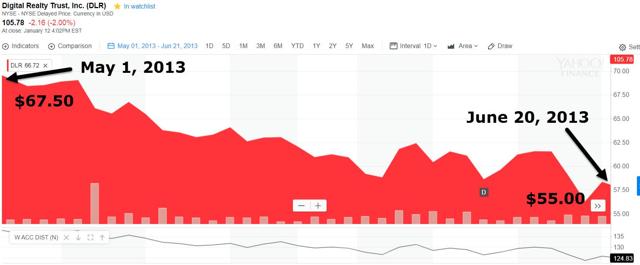 Highfields claimed at the time that Digital's fundamentals were deteriorating and that the REIT was a commodity business with no barriers-to-entry. Simply put, Highfields was speculating that the stock would fall, without any true catalyst supporting the short, other than manipulating prices for personal gain.
Simply said, Highfields is shorting Digital because they think they know something others don't know. They are plain and simple: speculators, obsessed with dangerously manipulating prices and driving down prices for their own personal gain. In an article, I offered my "back up the truck" commentary,
" …it's time to jump on this cloud. Digital has a most attractive valuation of 13.6x and I consider the fundamentals sound. Driven by growing world-wide demand and a very high-quality tenant base, Digital has evolved into a best-in-class global data center platform. Digital's "first mover advantage" has allowed the REIT to build a commanding barrier-to-entry model in which its mere scale provides access to capital and strong expertise in the global cloud supply chain."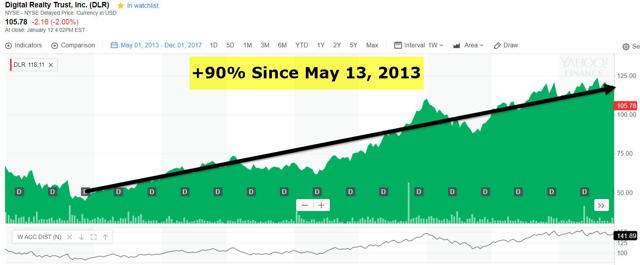 Over the years, I have continued accumulating shares in Digital Realty as this Blue Chip has been one of the best picks in my Durable Income Portfolio. As evidenced below, Digital has returned an average of 16% annually since I began purchasing shares in May 2013.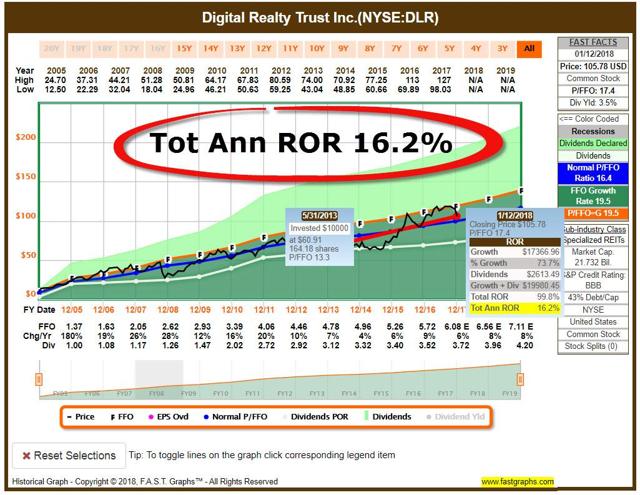 The "D" in DAVOS
Last week I provided a summary of my All-American DAVOS portfolio that consists of Digital Realty, American Tower (AMT), Ventas, Inc. (VTR), Realty Income, and Simon Property (SPG). These 5 REITs returned 9.2% since December 31, 2016, and Digital returned over 23%.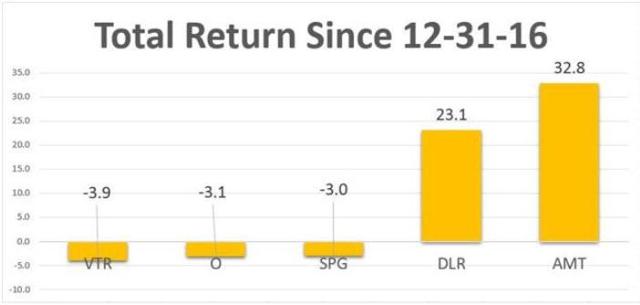 In Q2-17, Digital announced that it was merging with DuPont Fabros in a transaction consistent with Digital's strategy of offering a comprehensive set of data center solution from single-cabinet colocation and interconnection, all the way up to multi-megawatt deployments.
At the far end of the spectrum, this combination expands Digital's hyperscale product offering and enhances the company's ability to meet the rapidly growing needs of the leading cloud service providers. The DFT merger is also consistent with Digital's stated investment criteria and mission statement:

The DuPont transaction expanded Digital's presence in strategic U.S. data center metros and the two portfolios are highly complementary. The transaction was expected to be roughly 2% accretive to core FFO per share of 2018 and roughly 4% accretive to 2018 AFFO per share. The combination also enhanced the overall strength of the balance sheet. DuPont Fabros portfolio consists of high-quality purpose-built data centers, as you can see below: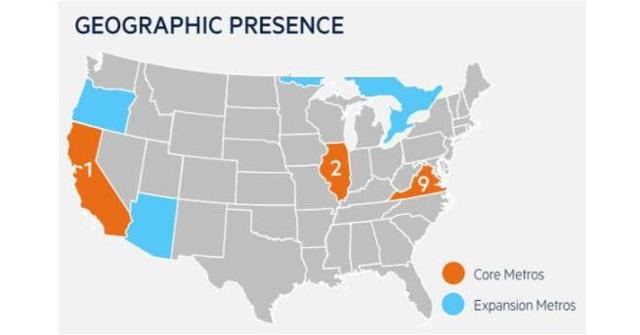 The merger also bolstered Digital's presence and expanding footprint in its product offering in three top tier metro areas, while DuPont realized significant benefits of diversification from the combination with Digital's existing footprint in 145 properties across 33 global metropolitan areas.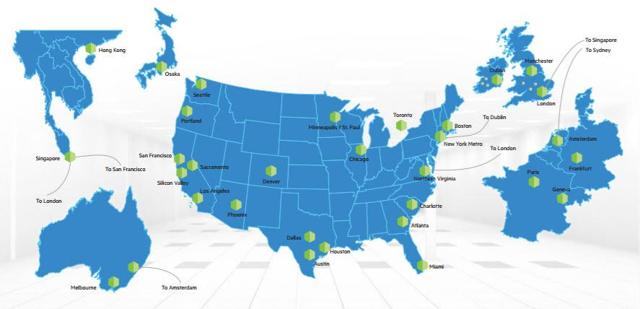 Digital closed on the acquisition of DuPont during the third quarter and the integration is well underway… but the blue chip REIT is not slowing down…
In October, Digital announced a 50/50 joint venture with Mitsubishi Corporation to enhance its ability to provide data center solutions in Japan. Digital is contributing a recently completed project in Osaka and Mitsubishi is contributing two existing data centers in Tokyo. Although the venture is non-exclusive, the expectation is that this will be both partners primary data center investment vehicle in Japan.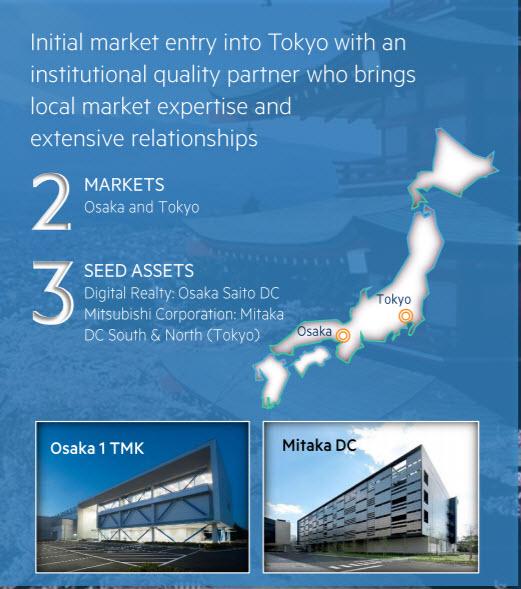 According to Digital's CEO, Bill Stein, "Japan is a highly strategic market (with) tremendous opportunity for growth over the next several years. This joint venture establishes Digital's presence in Tokyo, which has been a longtime target market."
In addition, Digital expects this joint venture will significantly enhance the company's ability to serve its customers data center needs in Japan. In particular, Digital expects that Mitsubishi's global brand recognition and local enterprise expertise will meaningfully improve the ability to penetrate local demand.
Also, in the US, Digital entered into an agreement to acquire a data center in Chicago from a private REIT for $315 million. This value add-play offers a healthy going in yield along with shell capacity that gives Digital an opportunity to boost the unleveraged return into the high single digits. This investment represents an expansion in Digital's core market and is occupied by existing customers with whom Digital has been independently working to meet their expansion requirements.
Also, during the third quarter, Digital announced that it was breaking ground on a new 14 megawatt data center in Sydney, Australia, adjacent to an existing facility. Digital also expanded its Silicon Valley Connected Campus with a 6 megawatt facility at 3205 Alfred Street in Santa Clara, California (scheduled for delivery in the first quarter of 2018).

The Improved Balance Sheet
In order to continue to scale its global footprint, Digital continues to demonstrate a disciplined balance sheet.
In July 2017, Digital issued two tranches of Sterling denominated bonds with a weighted average maturity of 10 years, and a blended coupon of just over 3% raising gross proceeds of approximately $780 million.
In early August, the company pre-funded a portion of the DuPont acquisition with the issuance of $1.35 billion of U.S. dollar bonds with a weighted average maturity of nine years, and a blended coupon of 3.45%. (This was only the sixth time an investment grade U.S. listed REIT has issued a $1 billion or more in a single tranche of bonds).
The transaction was well oversubscribed and priced 10 bps inside of where Digital's existing bonds were trading on the secondary market prior to the transaction. Digital also raised $200 million of perpetual preferred equity at 5.25%, an all-time low coupon for Digital and the lowest rate ever achieved on a REIT preferred offering with a crossover rating.
In mid-September, Digital closed on the DuPont acquisition and exchanged all the outstanding DFT common shares and units for approximately 43 million shares of DLR common stock and 6 million OP units. Also, in conjunction with the DuPont acquisition, Digital exchanged the DFT 6.625% Series C Preferred for a new Digital Realty Series C Preferred with a liquidation value of $201 million.
The company also tendered for the DFT 5.875% high-yield notes due 2021, settled nearly 80% of the $600 million outstanding at closing in mid-September and redeemed the remainder within a few days post closing. After quarter-end, Digital redeemed all $250 million of the DFT 5.625% high-yield notes due 2023 and a blended 106.3% of par or a total cost of $270.5 million, including accrued interest and the make-whole premium.
When the dust settled at the end of Q3-17, Digital's debt-to-EBITDA stood at 6x and fixed charge coverage was just under 4x, as you can see below: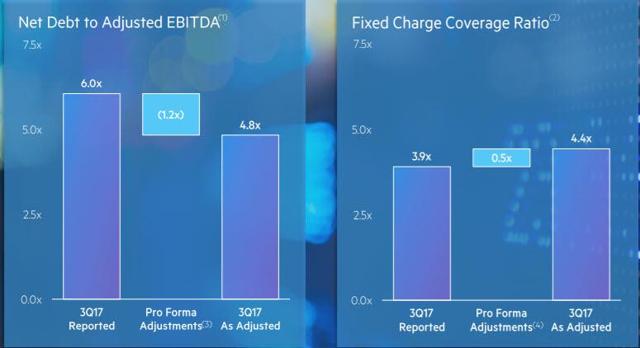 After adjusting for a full-quarter contribution, the balance sheet actually improves as a result of the DuPont acquisition and debt-to-EBITDA dips down below 5x and fixed charge coverage remains above 4x, as you can see on the right-hand side of the chart.
As you can see from the left side (chart below), Digital has a clear runway with nominal debt maturities before 2020. The balance sheet remains well-positioned for growth consistent with our long-term financing strategy.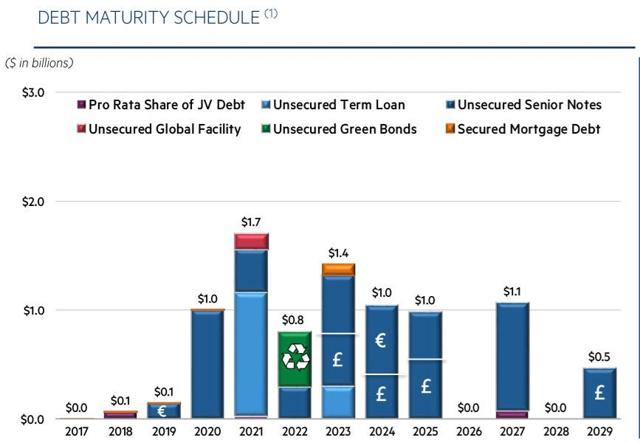 The Fundamentals
Construction activity remains elevated across the primary data center metros, but leasing velocity remains robust and industry participants are mostly adhering to a just in time inventory management approach, helping to keep new supply largely in check.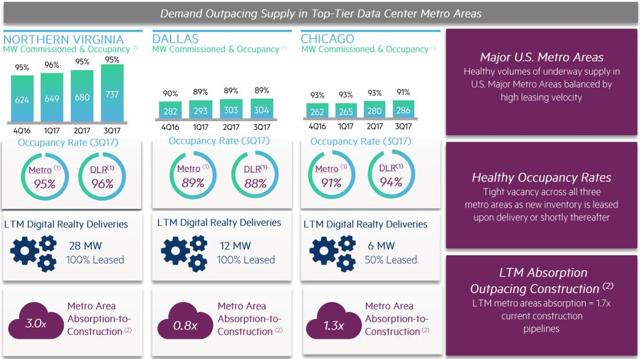 Demand is outpacing supply in most major markets. The near-term funnel remains healthy and demand seems to be picking up as we head into the end of the year.
In addition, vacancy rates remain tight across the board prompting Digital to bring on measured amounts of capacity to meet demand in select metro areas like Sydney, Silicon Valley and Chicago. The company has seen a flurry of recent land deals in core markets and the number of new competitors is on the rise, although Digital believes its global platform, scale and operational track record represent key competitive advantages.
As Digital's CEO, Bill Stein, explains:
"Given the sector's recent history, any prospect of an uptick in speculative new supply bears watching. However, we remain encouraged by the depth and breadth of demand for our scale, co-location and interconnection solutions. We expect the demand will continue to outstrip supply, while barriers to entry are beginning to grow in select metros, which we believe bodes well for long-term rent growth, as well as the enduring value of infill portfolios such as ours."
Stein adds:
"…we are well-positioned to connect workloads to data on our global connected campus network and through our Service Exchange offering. Enterprise architectures are going through a transformation and workloads are transitioning from on-premise to a hybrid multi-cloud environment. Our comprehensive product offering is critical to capturing this shift.

Cloud demand continues to grow at a rapid clip, but future growth in the data center sector will come from artificial intelligence. The power, cooling and interconnection requirements for AI applications are drastically different than traditional workloads, and Digital Realty is well-positioned to support the unique requirements and tremendous growth potential of this next-generation technology suite."
The Latest Results
Digital signed total bookings for the third quarter of $58 million, including an $8 million contribution from interconnection. The company signed new leases for space and power, totaling $50 million during the third quarter, including a $6 million co-location contribution. The weighted average lease term on space and power leases signed during the third quarter was nine years. Digital's management team explains,
"Our third quarter wins showcase the strengths of our combined organization as the bulk of our activity was concentrated on our collective campuses in Ashburn, which is not only the largest and fastest growing data center market in the world, but also the combined company's largest metro area in terms of existing capacity and ability to support our customers growth."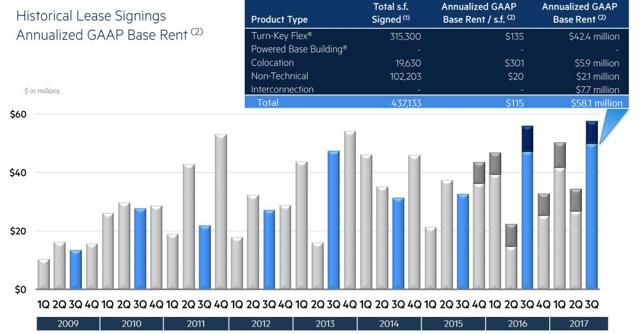 In Q3-17, Digital's current backlog of leases signed but not yet commenced stands at $106 million. The step up from $64 million last quarter reflects the $50 million of space and power leases signed, along with the $59 million backlog inherited from the DuPont acquisition offset by $67 million of commencements. The weighted average lag between third-quarter signings and commencements improved to four months.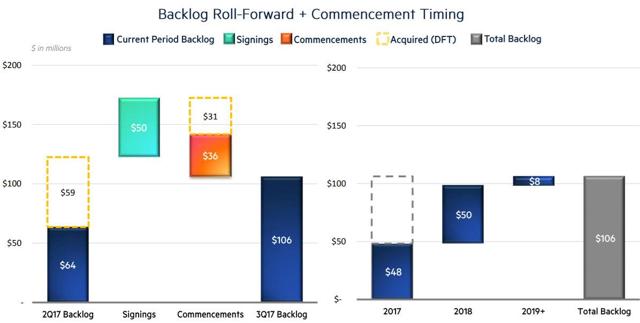 Digital retained 86% of third-quarter lease expirations, and signed $66 million of renewals during the third quarter, in addition to new leases signed. The weighted average lease term on renewals was over six years, and cash rents on renewal leases rolled down 3.8%, primarily due to two sizable above market leases that were renewed during the third quarter, one on the East Coast and one in Phoenix. Digital expects cash re-leasing spreads will be positive for the fourth quarter, as well as for the full year 2017.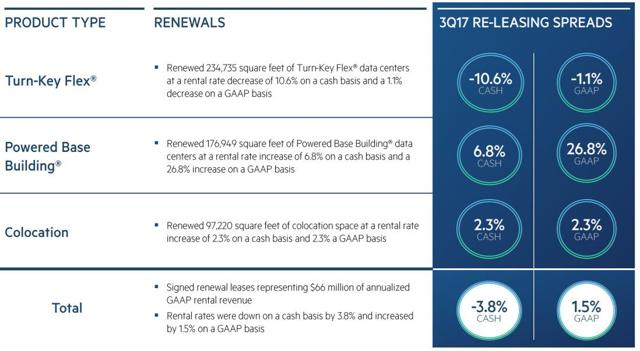 As you can see from the bridge chart below, Digital's primary driver is a full quarter with the higher share count outstanding following the close of the DFT acquisition late in the third quarter. Digital still expects to realize approximately $18 million of annualized overhead synergies and expects the transaction will be roughly 2% accretive to core FFO per share in 2018 and roughly 4% accretive to 2018 AFFO per share.
However, these synergies will not fully be realized until 2018 and the quarterly run rate is expected to spring load in the fourth quarter before bouncing back in 2018.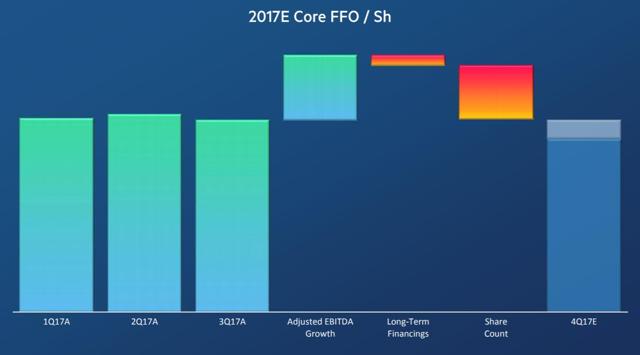 As you can see below, Digital's non-cash straight-line rental revenue has come down from a run rate of $23 million in the fourth quarter of 2013, all the way down to less than $2 million in the third quarter.
Over that same time, quarterly revenue has grown by 60% from $380 million to more than $600 million. This trend reflects several years of consistent improvement in data center market fundamentals, as well as the impact of tighter underwriting discipline, which has driven steady growth in cash flows and sustained improvement in the quality of earnings.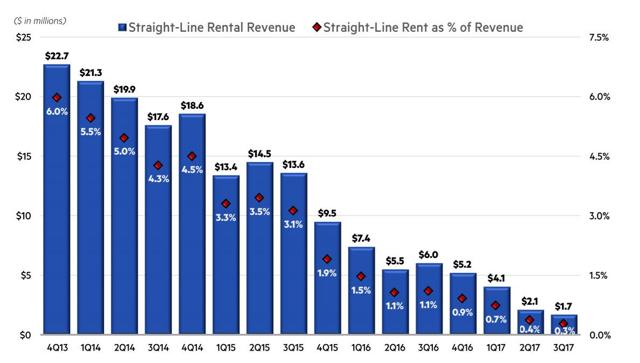 Buy This Blue Chip?
First off, I am not selling this BLUE CHIP REIT. I am confident with my overweight exposure and I will continue to add more shares in price weakness. Let's take a look at the dividend yield, compared with the peers below: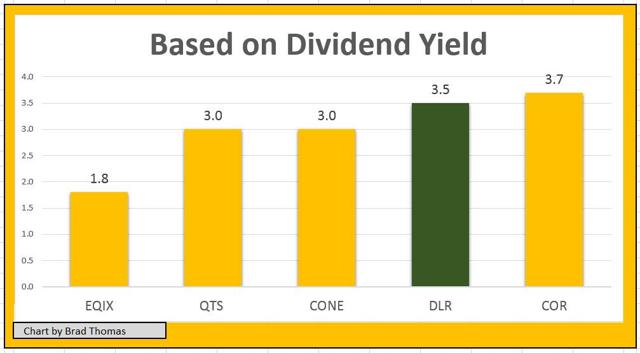 Let's take a closer look at Digital's dividend history, and specifically the FFO Payout history…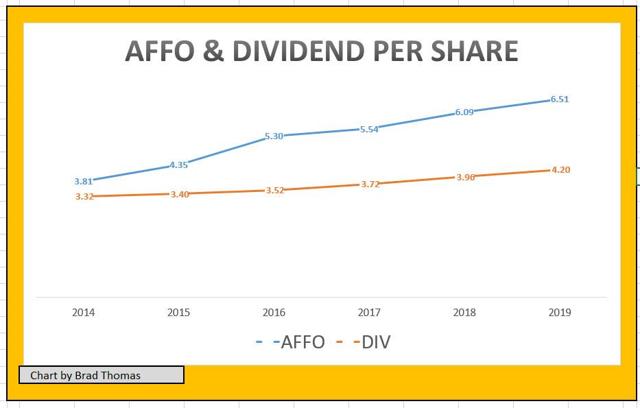 As you can see, Digital has continued to widen the margin of safety related to the Payout Ratio (helps me SWAN)…
Now, let's examine the P/FFO multiple, compared to the peers: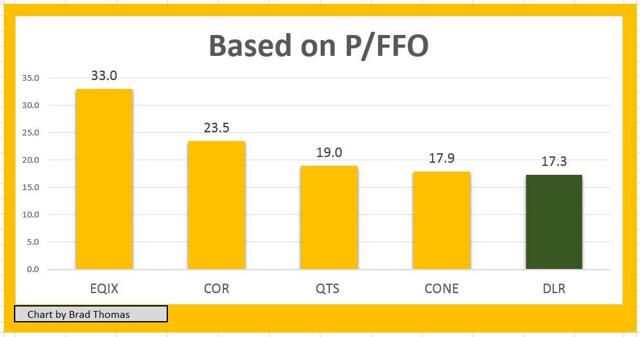 As you can see, Digital is cheaper (based on P/FFO) than the peers. Let's examine the FFO/share growth chart below…

As you can see, Digital is not growing as robustly as the peers; however, the company has continued to generate ~8% FFO/share growth and this powerful pattern of predictability is the primary reason I own shares in this REIT. Take a look at this FFO per share history…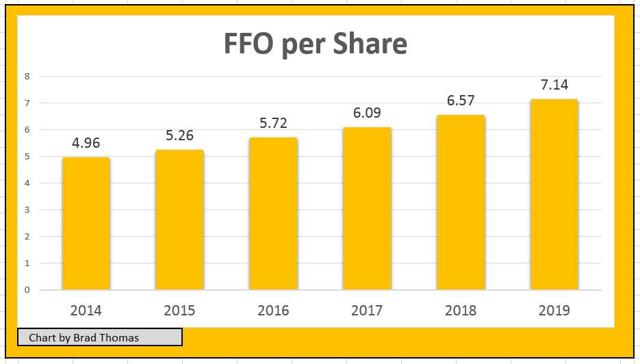 The average FFO/share growth since 2014 has been around 7.6%… now take a look at the P/AFFO/share chart below…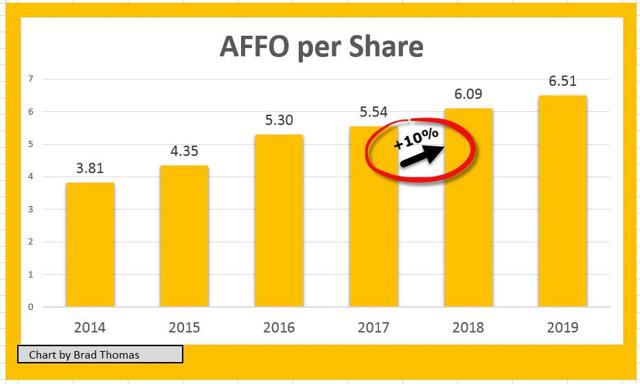 This suggests that Digital is easily positioned to continue to grow its dividend by at least 5% annually, possibly a tad better in 2018.
In summary, Digital has been one of my best BLUE CHIP buys since I commenced the Durable Income Portfolio (in 2013). I consider the shares soundly valued today (nibbling); however, I would recommend buying closer to $100/share. As Ben Graham famously explained, "a stock does not become a sound investment merely because it can be bought at close to its asset value."
Selecting securities with a significant margin of safety remains that value investor's definitive precautionary measure. I consider Tanger Factory Outlet to be the best BLUE CHIP buy today, as any value investor knows – "it pays to wait patiently for the storm to subside, knowing that a sunnier and more plentiful time is bound, as a law of nature, to resume in due course."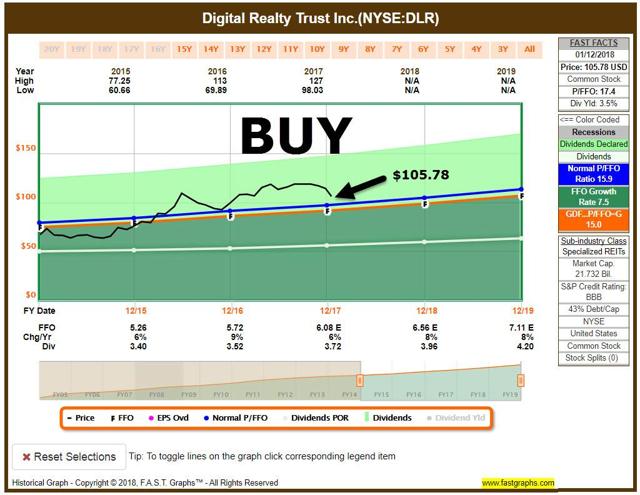 Note: Brad Thomas is a Wall Street writer, and that means he is not always right with his predictions or recommendations. That also applies to his grammar. Please excuse any typos, and be assured that he will do his best to correct any errors if they are overlooked.
Finally, this article is free, and the sole purpose for writing it is to assist with research, while also providing a forum for second-level thinking. If you have not followed him, please take five seconds and click his name above (top of the page).
Other REITs mentioned: (COR), (QTS), (CONE), and (EQIX).
Sources: FAST Graphs and DLR Investor Presentation.
The Intelligent REIT Investor is the #1 REIT Research site on Seeking Alpha. Brad Thomas and Rubicon Associates have a combined 40 years of investing experience. We publish exclusive research content on over 100 REITs, and our Durable Income Portfolio has returned over 12% YTD. We recently announced that the Small Cap REIT Portfolio has returned over 20% YTD.
Our service includes weekly property sector updates and weekly BUY/SELL picks. We provide most all research to marketplace subscribers and we also provide a "weekender" report and a "motivational Monday" report. We stream relevant real-time REIT news so that you can stay informed.
There is absolutely no reason to chase yield… let us do all of the heavy-lifting so you can "sleep well at night." SUBSCRIBE HERE
Disclosure: I am/we are long APTS, ARI, BRX, BXMT, CCI, CHCT, CIO, CLDT, CONE, CORR, CUBE, DDR, DEA, DLR, DOC, EPR, EXR, FPI, FRT, GEO, GMRE, GPT, HASI, HTA, IRET, IRM, JCAP, KIM, LADR, LAND, LMRK, LTC, MNR, NXRT, O, OFC, OHI, OUT, PEB, PEI, PK, QTS, REG, RHP, ROIC, SKT, SPG, STAG, STOR, STWD, TCO, UBA, UMH, UNIT, VER, VTR, WPC.
I wrote this article myself, and it expresses my own opinions. I am not receiving compensation for it (other than from Seeking Alpha). I have no business relationship with any company whose stock is mentioned in this article.