Ford Motor's (F) shares have staged a strong breakout in September, and again in January 2018 on the back of an improving economic outlook. Even though Ford Motor has broken out to the upside again last week, shares are still quite cheap and provide income investors with a steady stream of sustainable dividend income. Ford Motor could surprise to the upside in 2018.
2017 was a good year for Ford Motor after all. Though auto sales have fallen off of their peak in previous years, 2017 was a successful year for auto companies nonetheless. Investor sentiment with respect to auto companies turned around in the second half of the year, and stocks have started off 2018 on a strong note, too. The Dow Jones Industrial Average reached above 25,000 points, the first time in the stock index's history, fueled by investor confidence in the U.S. economy.
Ford Motor, heavily dissed and dismissed in the first half of 2017, has managed to come back.
Very strong breakout. See for yourself.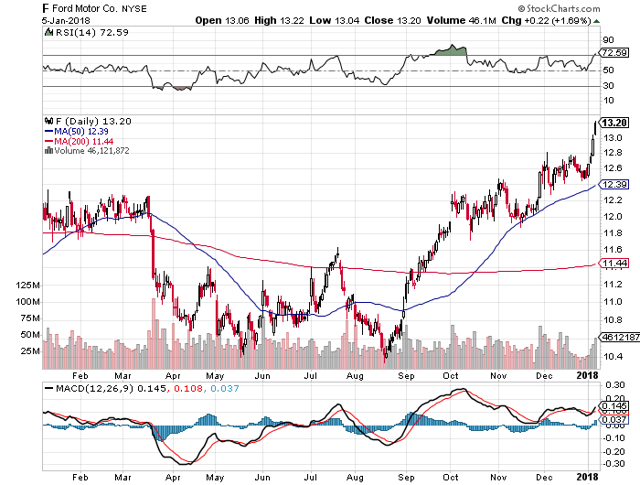 Source: StockCharts.com
One of the biggest successes for Ford Motor were F-series sales in 2017. F-series sales surged 9.3 percent year over year to 896,764 trucks being sold, which was Ford Motor's best performance since 2005. Ford Motor achieved numerous other sales records in 2017, even though total sales slightly declined year over year. For instance, Ford Motor sold the most brand SUVs in a single year, 796,302 vehicles to be precise. Ford's Escape and Edge also hit record sales in 2017, and Explorer sales produced the best results since 2005.
Despite those successes, Ford Motor's total sales volume decreased year over year. While the company sold 2,614,697 cars, trucks and SUVs in 2016, Ford Motor sold only 2,586,715 vehicles in 2017, reflecting a decline of 1.1 percent.
That said, though, there are a lot of reasons to be optimistic for 2018, which could see an increase in the value of cyclical risk assets like Ford Motor.
Positive investor sentiment, record consumer confidence, and an upbeat economic outlook for 2018 all support an investment in Ford Motor. The recent Republican legislative success in pushing tax reform through Congress further aids both consumer and business confidence in the U.S. economy. Homebuilder confidence also hit an 18-year high in December.
In other words, the U.S. economy is on fire, and has potential to grow further, supported by fiscal stimulus and a high level of confidence in this economy. Confidence in higher wages/earnings down the road supports consumer spending, so there is a very decent chance that car, truck and SUV sales will surprise to the upside in 2018. Given the economic backdrop, now is not the time to get out.
Ford Motor Is In The Bargain Bin
Ford Motor's shares are still dirt cheap (despite the surge in valuation in the last four months), and have an attractive risk-reward. They currently sell for ~8.4x next year's estimated profits, which is a low multiple for a blue chip stock with a 4.6 percent dividend yield.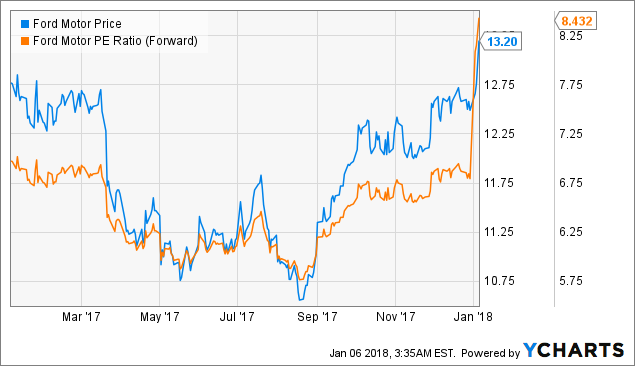 Your Takeaway
Investors have been speculating on an end to the boom in U.S. auto sales for years. However, 2018 is shaping up to be a pretty good year, for both the U.S. economy and U.S. car companies. Ford Motor has reached multiple sales records in 2017, and I expect momentum to carry over into 2018. SUV and truck sales have the potential to outperform as the U.S. economy roars ahead. Ford Motor is still dirt cheap, and has an appealing risk-reward. Investors hardly overpay for Ford Motor when paying a little more than eight times next year's estimated profits. Buy for income and capital appreciation.
If you like to read more of my articles, and like to be kept up to date with the companies I cover, I kindly ask you that you scroll to the top of this page and click 'follow'. I am largely investing in dividend paying stocks, but also venture out occasionally and cover special situations that offer appealing reward-to-risk ratios and have potential for significant capital appreciation. Above all, my immediate investment goal is to achieve financial independence.
Disclosure: I am/we are long F.
I wrote this article myself, and it expresses my own opinions. I am not receiving compensation for it (other than from Seeking Alpha). I have no business relationship with any company whose stock is mentioned in this article.