Agilent (A) continues to outpace the market, after more than doubling the return of the S&P 500 in 2017.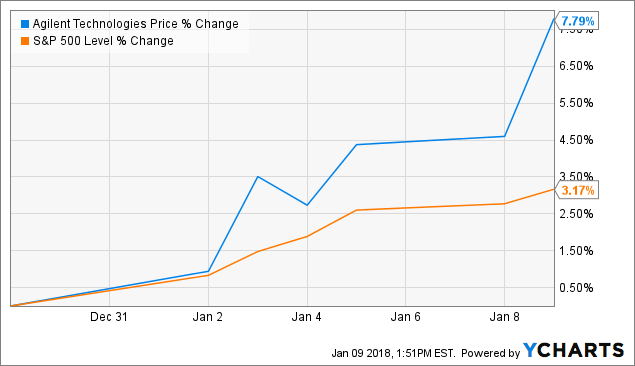 A main driver of the outperformance largely comes from multiple expansion, as shares continue to trade at a lofty 33 times GAAP earnings.
Valuations
Management over at Agilent also provides "non-GAAP" earnings-per-share numbers (as well as guidance) that it thinks better reflects the firm's true underlying earnings power. Using the non-GAAP EPS numbers still leaves shares looking quite rich, however, at roughly 30.5 times earnings.

The above chart (and all others, unless otherwise noted) was created by the author using data from Agilent's 10-K forms.
This compares to the five-year average multiple of 26.7 times earnings, and the thirteen-year median multiple of only 16.83 times earnings. So not only are shares expensive today relative to history, but multiple expansion appears to be an ongoing trend over the last five years in general. I think this trend needs to be examined further.
For one thing, Agilent has focused on transforming its business, especially over the past three years, and achieved the "highest growth rate since the 2014 launch of the New Agilent" according to CEO Mike McMullen, who continued explaining that, "2017 revenues of $4.47 billion are up 6.7% on the core basis." The company's non-GAAP operating margins also hit 22%, a 410 basis point jump from fiscal 2014's adjusted operating margin – and it's guiding for further expansion in fiscal 2018 to 22.4%.
Agilent has multiple levers it's pulling to optimize efficiency, focus on quality growth markets, and boost overall margins.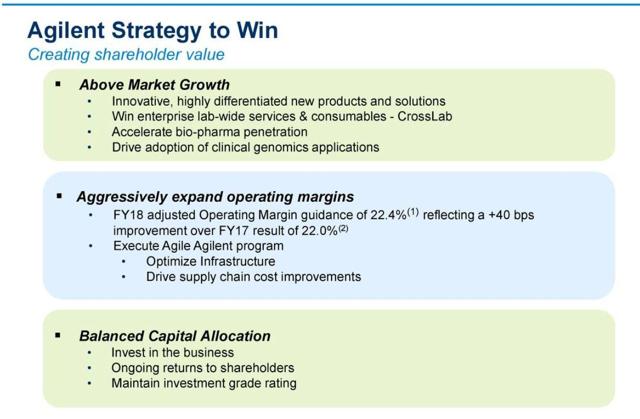 Source: Agilent 2017 Q4 earnings call slides
Analysts expect (non-GAAP) EPS growth of roughly 9.32% in fiscal 2018 and then another 10.85% from 2018 through 2019. With this in mind, we can stack up these growth rates against what's currently being implied in the share price.

Assuming a discount rate of 10% to 12%, there's only about 6.5% to 8.5% of EPS growth baked into the company's share price at present. This also assumes the adjusted EPS figures are accurate reflections of true economic reality.
An analysis of return on equity and capital allocation
Looking at Agilent's ROE by breaking it down into five analyzable pieces also provides further insight.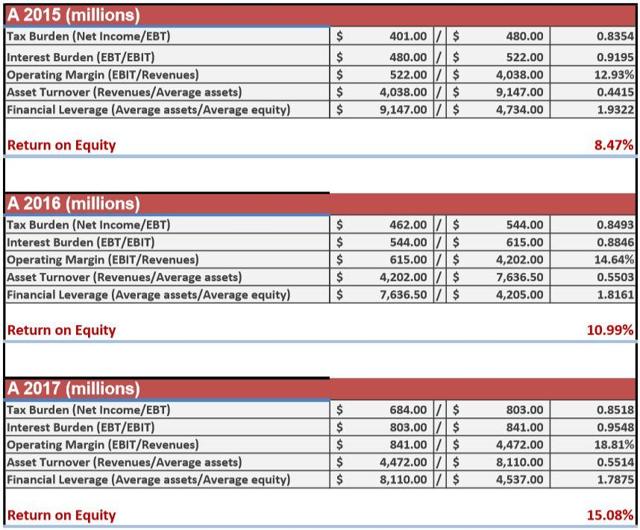 We can see margin expansion taking form when analyzing the GAAP numbers as well, with operating margins increasing sequentially over the last three years. The company also continues to generate more revenues in relation to its assets, as illustrated by its improving asset turnover. These two improvements have led to significantly better GAAP ROE for shareholders, despite the deflating effects of declining leverage. All signs so far point to improvement, backing up management's claims.
Taking the entire capital structure into account, we can also examine management's capital allocation skills through the lens of return on invested capital.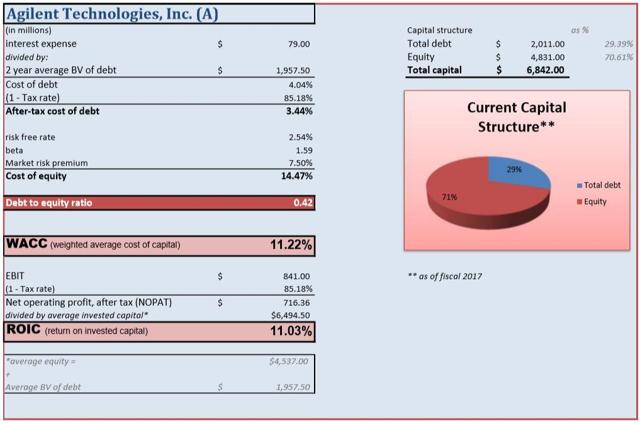 Agilent likely either came close to earning its cost of capital or earned it (depending on the true cost of equity) in fiscal 2017, indicating adequate profits but nothing exceptional. Due to the extreme difficulty in estimating a true cost of equity, below I will include a range of different equity costs, as well as their impact on overall WACC.

Agilent could theoretically be eking out slim economic profits if its true cost of equity is closer to 8% or 10%, but I like to err on the side of caution.
If we use adjusted operating profit provided by management of $974 (in millions) and hold everything else constant, ROIC would be closer to 12.77%. While the company doesn't earn wide excess profits (where ROIC greatly exceeds WACC), it could in the future if margin expansion and increased efficiency in the firm's capital structure continues at a decent pace.
Conclusion: I can empathize with both the bull and bear cases – but there's likely no margin of safety here either way
There's little doubt that Agilent is improving the quality of its overall business, while also growing both its top and bottom-lines at an above-average rate. While it appears there could be a valid justification for the firm's current lofty valuations based on its growth (and assuming a best-case scenario), there doesn't appear to be any margin of safety.
The worst-case scenario involves a drop in growth and/or failure to continue to expand margins. If that's the case, a "reversion to the mean" back to more historical valuation multiples could mean potentially ugly downside risks, in my opinion. Downside risk appears to significantly outweigh any upside potential, therefore, and despite my interest in the business improvement and growth potential, I'll remain on the sidelines.
If you enjoyed this article and would like to receive further updates and articles in the future, please feel free to hit the "Follow" button at the top of the page next to the author's name.
Disclosure: I/we have no positions in any stocks mentioned, and no plans to initiate any positions within the next 72 hours.
I wrote this article myself, and it expresses my own opinions. I am not receiving compensation for it (other than from Seeking Alpha). I have no business relationship with any company whose stock is mentioned in this article.
Additional disclosure: Articles I write for Seeking Alpha represent my own personal opinion and should not be taken as professional investment advice. I am not a registered financial adviser. Due diligence and/or consultation with your investment adviser should be undertaken before making any financial decisions, as these decisions are an individual's personal responsibility.